If you require economical Skip bins in Mandurah to remove your excess waste your at the right place! Mandurah Skip Bins have been supplying local Peel residents with skip bins for many years and as a result we have become the leaders in waste management. 
We are a 100% West Australian owned family run company. Our solution for providing you with the cheapest Skip Bins in Mandurah for your needs couldn't be any easier. We have cost-free quotes and also online booking 24/7. Just let us know which Skip Bin Mandurah you require and choose your date and we will be in touch with you right away. It's that easy!
Exactly how Do I Know Which Size Skip Bin I Need?
It is rather common for people to ask the recommended size of skip bin (Mandurah) they require for their garbage disposal. The solution could be complicated, because the dimension you need relies on the amount of waste you have. It is hard to say because the amount of waste you get rid of can differ each time. 
So, what is the best solution to this problem? It is better to opt for a bigger bin that will have all your waste and a little space left over. Besides, to upgrade one size larger is only a minimal cost. Its better to be safe than sorry and not have to hire another Mandurah skip bin!
The best waste management team in the peel region!
We are here to help you with skip bin hire in Mandurah 6 days a week!
Why Choose a slightly Larger Skip Bin?
How to estimate the size of a Skip Bin in Mandurah.
Now, if you do not know the sizes of Skip Bins Mandurah, give us a call and we would be happy to help you out with the dimension of the Skip Bin (Mandurah) that is right for you.
We are proud to offer some of the best pricing in the Peel Region for Skip Bins. We have made choosing the size easy.. Look at roughly how many of your household wheelie bins will fit into the skip bin Mandurah for an accurate idea. Got a quote? We can price match any written estimate!
Professional Skip Bins Mandurah
If you want the services of a skip bins hire Mandurah business, you've come to the ideal place. We provide the very best waste management solution in Mandurah. We can be relied on with the removal of wastes from your residential and commercial properties. Our business consists of trained professionals who have years of experience in waste management.
We help you save the time you would certainly have spent in sorting, moving and also getting rid of your waste. Rubbish Removal in Mandurah can take great deals of energy and time due to the distance to be covered prior to throwing away with it. You can now invest your precious time on other things thanks to our team at skip bins Mandurah.
We ensure the safety of our precious Mandurah environment. It will can at times be tough for lots of people to identify which waste is dangerous to the environment and which is not. So, to prevent placing toxic substances in unsafe places, you should consult with us. We likewise make sure that the wastes are appropriately sorted and disposed of. This enables us to recycle the ones that need to be recycled.
Waste removal in Mandurah can be harmful without the right procedures in place and also equipment. The elimination of dangerous materials and lifting of heavy things can threaten your health. To prevent such unneeded danger, call our team today. We are here with our skills and innovative machinery to remove rubbish from your premises.
It is also vital at this point to state that we provide cost effective rates for waste removal and skip bins in Mandurah. You will certainly realise that using our services is economical when you consider the amount of fuel, time and energy that you will certainly invest just to get rid of your wastes at the local tip.
Top Quality Waste Management Solutions in Mandurah
We are here to provide top quality Skip Bins Mandurah solutions to you. We are ready to remove all the waste in your building or commercial property. Our services are reputable and efficient. Call us today and experience our professionalism! You will be surprised with the quality of our solutions.
Products not permitted in Mandurah Skip Bins
For the safety of every person and the environment the following products are not allowed to be put in skip bins in Mandurah.
Paint as it is classed as hazardous waste because of the chemicals found in the paint.
Motor Oil
Asbestos
Gas Bottles
Fire Extinguishers
For disposal of those products you require to refer to your regional garbage disposal professionals.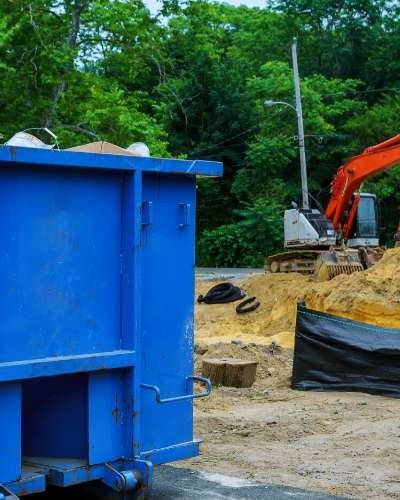 Benefits of Mandurah Skip Bins
So happy with the service. The guys came quickly and the whole process was hassle-free. Highly recommend!
Permits for Skip Bins Mandurah
If your skip bin in Mandurah is to be put on private property you do not require a council authorisation, however if the skip bin is to be put on public building such as the nature strip, walkway or the street a license is needed. So, call your local council to check their requirements. Some councils do not permit skip bins to be placed on the roadway, nature strip or the walkway. Permits vary from council to council as they each have their set of procedures.
Council's fee for the licenses and this is an extra charge in addition to the skip bin hire in Mandurah, the fees vary from council to council. Your council may ask:
Place where the skip bin will be put.
Why the skip bin is required
For how long the bin will stay on public residential or commercial property for
The size of the skip bins
Before hiring your skip bin it is worthwhile to talk to your local council about their requirements. How much time it takes for the permit to clear as well as just how much the permit will certainly set you back.
We will get back to you same day guaranteed!